Sign-up or Renew Radiance Healing
Please print this page for easy reference.
If you would like to sign-up for one year of Radiance Healing, we will need three things: your personal information, a current Digital photo, and proof of a donation to one of Amma's Charities.
If you would like to renew your Radiance Healing, we will need your updated personal information, proof of a donation to one of Amma's Charities, and a new photo if possible. A new photo is important (but not absolutely necessary) because Pujitha will see your current health/energy condition more clearly.
PLEASE READ THE FOLLOWING CAREFULLY

1. Personal Information Required
In your email please include the following information for each person receiving Radiance Healing:
Full Name (and Spiritual Name if you have one)
Male or Female
Email Address
Country where you live

2. Current DIGITAL Photo
The photo should be as current as possible (at least within the last six months). This allows Pujitha to see and address your current health/energy conditions.
Please shoot the photo vertically as a full body shot (from head to toe).
Please send a photo of only the person who will be receiving the healing. Do not include other people. If a couple or multiple family members are requesting healing together, they should each have a separate photo.
Your digital photo(s) should be sent as an email attachment. The ideal file size is about 500K per photo. (If you don't know about file sizes, don't worry and just send whatever you have.)

3. Donation Amounts for Amma's Charities
Important note: All donations are non-refundable.
Upon request, we can discontinue your healing, but the donation cannot be refunded once the transaction has been completed.
Adults (in U.S. $)
1 Year: $300 per person
6 months: $200 per person
Children Under 12
1 Year: $200 per person
6 months: $135 per person

Pets / Animals
1 Year: $200 per pet
6 months: $135 per pet

4. We Need to See a Copy of Your Donation Receipt.
Payments must be made online via credit card.
PLEASE DO NOT send your credit card information by email.
When you make a donation online, you will get an immediate response with your email receipt. If you do not get an immediate response, check your junk mailbox, or spam screening software.
On the on-line donation form, you must choose "Spiritual Healing" as the charitable project in the drop-down menu (scroll down the list). Then you can enter the correct donation amount in the "Other" box.
For accounting reasons it is necessary to select "Spiritual Healing", but all donations go to Amma's charities in the end, so in the "Additional Information" box at the bottom of the donation form you can type in the charity for your donation if you want to (otherwise, it will go where it is most needed).
Here is an image of what to do on the donation page at amma.org: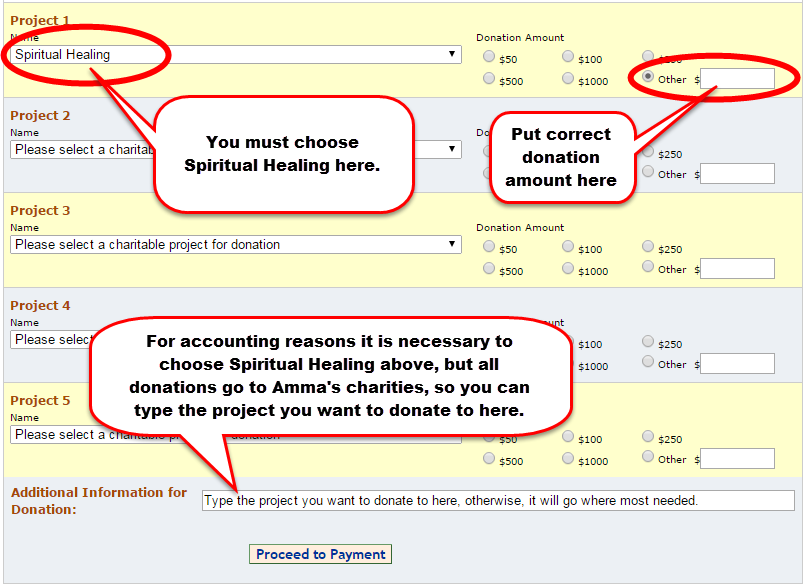 If you have read the instructions above:
Click here to make your online credit card donation at Amma's U.S. website.
Please remember, donations are non-refundable.


5. Send Us Everything by Email
Put your personal information in an email, attach your photo, and be sure to include your donation receipt (as an attachment, or paste the full text of the receipt into the body of the email), and send it all to: radiancehealing108@gmail.com.
Please send only one email with the reciept, photo and information.
If there is a problem doing so, just be sure the name of the person receiving the healing is clearly referenced on every email you send us.
IMPOTRANT notes about the process:
Pujitha starts new healings bi-monthly, on the 1st and 15th of every month.
We usually only check and respond to emails bi-monthly. If you do not receive a response immediately please know that a response is coming soon, usually in the 5 days before the 1st and 15th of every month.
After your email is received and registered, it is sent to a Japanese translator before being sent to Pujitha. This process takes up to 5 days, so please allow five days before your start date.
If you would like to have your heaing start on time, please do not register at the last minute. Since the registration deadline has been set based on Japan time, please consider that there is a time difference.
Thank you so much! If you have any questions, please email:
radiancehealing108@gmail.com