About Pujitha
Pujitha was born in Oita Prefecture, Japan. Together with Devananda, she served as Deputy Chief Priest at their Tibetan Mikkyo Shugendo Buddist temple in Oita for 25 years. She first met Amma, with Devananda, in 1996 and became her ardent devotee from that day on.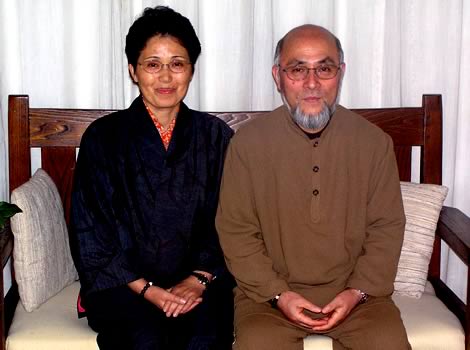 Pujitha and her late husband, Devananda in San Ramon, CA, 2005
Persuaded by Pujitha's persistence and devotion, Devananda agreed to meet Amma again in 2001. On this occasion he had a powerful life-changing experience during which he realised that Amma was his highest spiritual master and from that moment on surrendered his life in service to Her.
In 2006, Devananda and Pujitha donated their temple in Japan to Amma (it is now the Mata Amritanandamayi Oita Ashram) and took up residence in Amritapuri, India. With Amma's blessings, they started to offer Radiance Energy as their selfless service to people from all around the world. In the summer of 2006, Amma asked them to offer Radiance Energy on the US tour as part of the ashram's charitable activities.
Devananda passed away in 2007. After a years' break, Pujitha received Amma's blessings in November 2008 to recommence sending the energy, and to offer it on the 2009 US tour.
Pujitha usually resides in Japan and manages the Oita ashram where she regularly conducts energy meditation sessions. She is committed to passing on the benefits of this gift to people far and wide.
Pujitha receives no income from the money collected for this healing work. She is very happy that the money raised goes to support so many worthwhile charities in India and around the world.